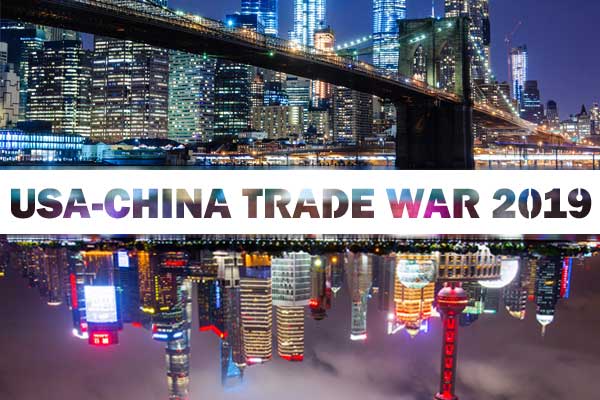 The USA – China Trade War Explained and How it Affects AliExpress Dropshipping in 2019
If you're doing any sort of AliExpress dropshipping or trying to create a dropshipping website in 2019, the new trade wars between China and the US may impact your business. Here is what you need to know. China is raising tariffs on 5,000 products, from the US, and some may face tariffs of 25% in response to the moves by the US.
What is a Trade War?
When any nation wants to protect its domestic industries may impose tariffs on importing countries. This is what is happening with the US trade war with China. The US wants to stimulate US businesses at home so it's putting tariffs on Chinese goods and the Chinese are retaliating with their own tariffs. The US wants to create more jobs in the US and less of a reliance on Chinese products. The current trade war is ongoing and it's not known how severe it could become or if it will stabilize in the near future. This leave a lot of concern about the worldwide market. The markets hate instability.
Dropshipping and Tariffs
As an AliExpress dropshipping business, you may not be impacted much with trade wars and can still create a dropshipping website without a lot of worries. There is a tariff threshold of $200 which are exempt from duty. Most dropshipping products are below this threshold so you won't be impacted by the tariffs and trade wars. You will feel the impact of you sell expensive products, but not as much as you may expect.
Prices and Shipping
Your dropshipping prices are still lower than typical US goods because you can get a higher volume of products from China. The Chinese sellers can sell their products directly to the American Consumer for a lower cost than what any American seller can do domestically. Shipments such as ePackets from China to a residential US customer are cheaper than the shipping option in the US for the same type of package.
Picking the Right Products
You may have to do a bot of research to ensure that you're selling the right products. You may have to adjust your pricing somewhat or choose something different if these trade wars continue. Thankfully, you have a large assortment of products on AliExpress to choose form so you can adjust your dropshipping to meet current needs.
The Future
If you're going to create a dropshipping website in 2109, you still need to be aware of the trade wars. It's not clear what will happen with this in the near future. Things could escalate even more as both countries get into an economic slugging match over tariffs. These trade wars may continue into 2020 and even longer if the current administration in the US is re-elected.
Conclusion
You can still create an AliExpress dropshipping business in 2019. You will have to pay attention to the trade wars when you create a dropshipping website. Things may get worse or they may get better. It all depends upon what the two administrations decide to do in regard to the tariffs.